Seeking Business for Small Businesses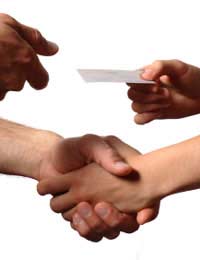 Seeking new business has always been the main ingredient in running a successful small business. We've all seen those traditional shops on the high street that are still trying to see the same stuff they did five years ago, just with a little coating of free dust from being in the window so long.
A small business can't stay still if it wants to be successful. You have to look for new opportunities, utilise networking events and listen to your customers. Nobody owes you a living – you have to make sure you are offering your customers what they want. And it's not just about the cheapest price, either – adding value is the small business golden ticket.
Be Flexible
For small businesses growth and seeking new business, flexibility is king. You have to be open minded enough to see business opportunities when they present themselves, rather then being like the old high street shops still selling the same products just because 'that's what we've always done'.
Flexibility is more than being good at what you already do, it's about finding new niche areas to exploit your skills or sell your products. Think of the Dragon's Den television programme for potential entrepreneurs seeking funding from rich business people – you've got to have something new, something that can be turned into money. The 'Dragon's' are looking for ways in which they can exploit their own network and the products are often so simple you think 'I could do that', but the fact is you didn't and they did.
Don't Burn Your Bridges
OK, if you have a client or customer that doesn't pay you or does something really awful, you don't have to maintain contact. But there is no need to 'fall out' with someone just because you don't like the cut of their jib.
Small business owners need to stay on the right side of people because you never know when you may come across them again, or if you may need their help. New business can come from the strangest places, especially if you are open and flexible about recognising potential, so keep personal feelings aside. Small business lead generation can come from new shops, large or small businesses opening in your area or changing trends.
What's Your Added Value?
This is the real biggie. Small businesses seeking new business have to know what they are offering that's over and above the competition, regardless of what you do and where you are based.
You don't have to undercut on price because you will be forever on a loosing battle with the major supermarkets/competitors that can do it cheaper than you can. Work out your USP (unique selling point – but hopefully you already knew that.)
There are so many ways to add value to your products and services, with the most popular, effective and appreciated by customers being excellent customer service, no quibble refunds, easy to contact, friendly staff and expertise in your field.
When you're seeking new business, focus on these core points and use your added value to gain new contacts, contracts and customers. Shout about what you're doing, get good PR (local newspapers are always keen to hear about a special offer or competition) and don't assume that people will choose you when they need to spend their hard earned money.
You might also like...