Seeking Business for Trades People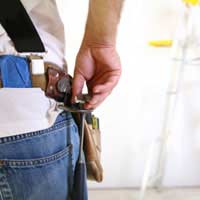 Many trades are going through a difficult period. House building has slowed down and few companies are investing in new construction work. In an economic downturn your customers will be looking to make cutbacks on discretionary expenditure, which may mean a reduced income flow for cleaners, child-minders, gardeners, decorators, builders, joiners, window-cleaners and other trades.
Trades where maintenance is regarded as essential, such as car mechanics and roofers may not suffer so badly, but should still be thinking about how their flow of work can be maintained in the current environment.
Don't Rely Solely on Referrals
Many reliable and quality trades people have built up their businesses solely through referrals and through trade contacts. These may dry up in times of economic downturn. This means that you may need to look at other methods of generating business.
Do your Research Online
Most council planning departments publish a register of planning permissions being applied for. These contain the contact details for the owners. Sending a well thought out letter which outlines your services may help you gain additional work before competitors are aware of the opportunities.
Network
You probably know lots of people in companies and contractors that you have worked with before. Now is a good time to revive these relationships. Phone a selection of contacts who can let you know what's going on in the market and may be willing to pass on prospects. It may also be worth offering discount vouchers through estate agents and solicitors to home buyers, or to those trying to sell their properties.
Low-level Local Advertising
Think about relatively inexpensive ways to bring in business and put some of these in place. Think about putting postcards into local shops and supermarkets, invest in some leaflets or flyers and distribute these to local houses, especially in areas where older people and younger families live.
If you don't want to distribute these yourself, speak to local newsagents about adding them to their deliveries or use the Post Office or a leaflet distribution company. It is possible to select certain areas by post code or by residential/business premises.
Upgrades
When the market precludes people from moving to larger houses, they often have to find more space in their existing homes, or make other improvements to them. This can provide a wealth of opportunities to those who can provide home improvement services. Extensions, loft conversions, conservatories, improved storage facilities and cosmetic upgrades like decorating will be more in demand.
Consider Sub-contracting
Even if private sector work is reduced, it may we worth exploring public sector sub-contracting, as maintenance work and improvements to housing association and council housing stock will continue and schools and health centres continue to be built.
Work as a Team
Householders generally think in terms of single projects, so will be interested in, say a new bathroom rather than thinking about employing a plumber, a tiler, an electrician, a decorator, someone to lay flooring, a skip hire company and whatever else is needed to finish the job.
Establishing a team of reliable specialists can help you access bigger projects and provide a premium for co-ordinating the work. That said, you must be absolutely able to rely on your specialists, since it is your reputation that might be damaged.
Even in a recession, there are still opportunities for skilled craftsmen. Using some of the techniques above, should help you to find them.
You might also like...