Seeking Business in an Economic Downturn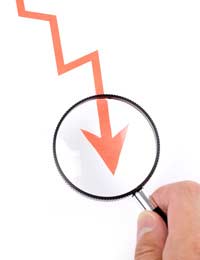 Every day, we hear stories of job losses, huge businesses names with decades of history behind them shedding thousands of jobs or falling into receivership. This tends to make smaller businesses very nervous, because if these titans cannot operate successfully in a recession, what hope is there for them.
The B2B Market
When business conditions are difficult, people become reluctant to spend money unless it is essential that they do so. If you operate in a business to business sector you may find that your customers are shedding staff, cancelling or postponing projects and purchases and paying close attention to costs and trying to ride out the storm. Your products and services should focus on excellence, effectiveness and value for money.
The B2C Market
Consumers reduce their discretionary spending during times of economic uncertainty, trading down to more basic goods and services – colouring their hair at home rather that paying a stylist, going on fewer holidays, eating out less often, taking their own lunches to work. Think about how you can align your products and services to this trend.
The Public Sector
The public sector remains relatively stable during economic downturns. This is, in part, due to the fundamental nature of the services it offers. That said, value is likely to become more important here, offering opportunities for new suppliers. Local government and government agencies buy a huge variety of goods and services, but can be difficult to penetrate. Check out your local council's website's and search for website's that offer listings of public sector tenders for both small jobs and huge projects. Don't forget all the public bodies, education system and the NHS – all can offer a steady stream of opportunities.
Public sector business may be more time consuming to acquire and it sometimes takes longer to get paid, but few councils will go bankrupt, so the added security is worth the extra effort.
Go Global
There are areas of the world that are untouched by the present economic gloom, so it makes sense to seek out customers and markets which still offer an abundance of opportunities for business, if you offer a product or service that is suitable. Talk to your trade association or local enterprise company for advice in this area. Grant support may be available.
Understand the Climate of Fear
The key to continuing to build a business and find new customers is to understand the mood of your customers and clients and to tailor your offering accordingly. Unless you operate in a particularly buoyant or recession-proof industry, few people will be looking for products and services that will help them to expand their business. They may be willing to invest in products and services that offer better value for money or that help them cut costs. There may also be opportunities for freelancers or consultants where staff have been let go.
Some companies will actively expand as consumers change their behaviour: People still seek entertainment, but may be more likely to buy Sky TV than to go out, people will still eat, but it may come from discount supermarkets rather than M&S and Waitrose. Women will buy a new lipstick as a treat, in place of the designer handbag they may have picked up before. Seek out customers business sectors which will do well during periods of doom and gloom, and repurpose your own offerings so they align with the prevailing mood.
Understand your Customers
It's always important to maintain a personal relationship with your customers and to understand how their business is going. During a recession, it is particularly vital as people buy from people. This can also provide useful pointers for your credit control.
Stick to the Basics
Building a customer base in an economic downturn can be more difficult. Broad spectrum marketing may produce a reduced rate of return in these circumstances, so it makes sense to concentrate on methods which focus on the person to person aspect such as cold calling, market research, communications and networking.
You might also like...