Seeking Business for Women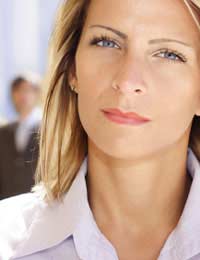 There is a degree of contentiousness round whether women build and run their businesses any differently from men. There's little doubt that it can be harder for a woman to succeed at the top levels in larger companies, with the 2006 figures for the FTSE 350 (the largest stock market traded public companies in the UK) showing that only 10% of available directorships were filled by women.
There's also evidence to show that taking career breaks to raise children can impact on career progression. That said, many more women are starting their own businesses on either a full or part time basis, with one third of new businesses in the UK now being started by women.
The best methods for you to employ in building your business will depend on your own personality, the business you're in and the type of customers you're looking for.
Don't Undersell Yourself or Your Business
You can take self-depreciation too far, sometimes. If you are running your own business, the temptation is to be modest about your achievements, but you should be proud of what you have built and be proud to tell people about what you do. " I have my own thriving HR and Recruitment Consultancy" sounds better than, "Oh, I just work from home."
Go for the Going Rate
Women sometimes tend to undervalue their skills and don't research what the going rates for their services are. This seems to be particularly prevalent in the arts, administrative and writing sectors, particularly where people work from home. Remember, it's can be easier to offer a discounted rate than put your prices up with existing customers, so start at the going rate.
The Old Girls Network
Women who have their own businesses often want to help other female entrepreneurs, so there are many business associations and networks solely open to women. Some of these are industry based, such as the Society of Women in Publishing, and some are geographically based. Spend some time researching which of these is right for you.
Don't concentrate solely on all-female organisations, but concentrate on finding the most effective networking forums for building your business. Talk to your local enterprise company and chamber of commerce to find out what's available in your area and go for it. You'll find more advice on networking and overcoming confidence problems on the SeekingBusiness website.
Use your Natural Communication Skills
Women are naturally more communicative than men, according to scores of research studies. You can turn these skills to your advantage by using communications-driven methods to build your business. Try cold calling or using phone based market research to find out more about potential clients.
Put Yourself in the Customer's Place
Think about your customers and what they would like from you as an ideal product or service. Look for ideas that will make their business work better, more simply, faster, or better or will save them money.
Be Assertive About Being Paid!
It can be a bit embarrassing to chase people when they owe you money, and sometimes you may be tempted to let it go so that you keep getting work from your client. This is a mistake. Be polite but firm and find out what is happening. In most cases there will be some kind of mix up, and the person you deal with won't even be aware that you haven't had your invoice paid.
Clients who repeatedly don't pay you, aren't customers. They are people who are stealing your time and money. If you owned a shoe shop, you wouldn't just watch as a customer picked up some shoes and just walked off with them without paying, would you? Where's the difference? Always keep on top of your credit control because a failure to pay can be a sign of deeper trouble.
You might also like...