Seeking Business for Consultants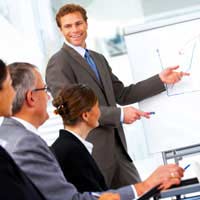 Consultancy is a growing business area, and is likely to flourish as businesses buy in expertise rather than take on new staff. Your business growth will depend on your expertise, your ideas, your presentation and reporting skills and how good you become at finding business leads and turning these into a steady stream of revenue.
There are a number of keys to building a successful consultancy business.
Work your Contacts
You will probably start out by letting your industry and business contacts know you're building your own business. Don't be afraid to ask if they have anything suitable, or know of anyone who does. Keep in touch regularly because these people may be helping to pay your mortgage.
Build new Networks
It's often said that people buy from people, and this is certainly true in the case of consultants. Essentially, you are hiring your brain out by the day, so the more potential customers you can meet and impress the better. Take advantage of any opportunity to attend business and industry networking events and groups including on-line organisations.
Leverage your Knowledge
Consultants expect their clients to pay for their expertise, so it makes sense to demonstrate this expertise publicly. This might involve speaking at industry events or writing pieces for the relevant media. It is important for consultants to become recognised as experts in their sector and introductions become easier if clients are already familiar with your work through the trade press.
Check out the appropriate SeekingBusiness articles to start leveraging your knowledge by building an industry profile. It's also vital that you keep yourself up to date with what's happening in your industry, so take advantage of training courses and events. These can also supply you with networking opportunities.
Develop a Reputation for Excellence
You are only as good as your reputation for excellence. Good consultants win repeat business from their clients, poor consultants don't. Make sure you do the best possible job on any consultancy project you undertake. Success is built on an impressive track record.
Don't Neglect the Public Sector
Consultancy in the public sector is booming. While much of the work is really only available to large consultancy firms, there is also a raft of smaller consultancy work available to one-person operations. There are specialist websites which will e-mail you appropriate leads and it is worth searching for leads on your local enterprise company or other business organisation's website. Also check for specialist public agencies that deal with your area of expertise and introduce yourself to the appropriate people.
Build a Bank of Referees
Always ask previous clients if you may use them as a reference for new business. This will help cement your reputation as a reliable supplier.
Don't Forget the Basics
One of the best methods for consultants to build business is to join online.
These work a little like business dating agencies, with clients putting their projects up for bidding. Unlike dating sites, there are many more would-be suitors, so you will need to learn the art of putting together a great project bid. Research this type of site carefully, some offer work at really low rates and others will provide you with a steady stream on ongoing work at a realistic fee.
Consultants shouldn't be afraid to pick up the phone and look for new clients through cold calling and it can also be worth forming informal networks with other consultancy providers to team up for larger pieces of work you couldn't undertake alone.
You might also like...