Making Your Cold Calls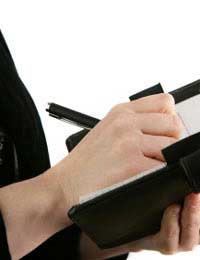 Once you're ready to begin a cold calling campaign, it's worth just checking that you have everything you need to hand.
Pre Call Preparation
Other than your list of names and phone numbers, you'll need a pen and your survey forms if using them, or a notepad for recording answers and any follow up action. It's a good idea to have envelopes with marketing materials ready to post off if you get interest from potential clients.
It's also a good idea to ensure that your calls are made from a professional sounding background. That means no music on in the room, no children running about screaming and moving dogs that bark into another area.
Many people like to rehearse their introductions or opening approach before they pick up the phone and this can be of help if you're feeling a bit nervous. It will also help boost your confidence if you take a real interest in the person on the other end of the line, and don't regard this as an exercise to be rushed through.
Take the time to introduce yourself and your services properly and don't make the mistake of being abrupt and arrogant. You're asking for information to help build your business, and the opportunity to become a supplier to the recipient of your call. You're not doing them a favour by allowing them to join your customer list.
Getting into a Positive Frame of Mind
Before you pick up the phone, it's useful to make sure you're feeling positive and confident about making your calls. Keep in mind that your objective is to reach the right person in your target company and to talk to potential customers. Every call you make takes you a step nearer to your goal.
It should go without saying that you should always be polite and friendly to everyone you speak to, including the receptionist. It's surprising how many people treat receptionists arrogantly, especially when they have the ability to lose calls on the switchboard, or provide you with helpful information.
Research has shown that people who smile on the phone sound happier, friendlier and more confident, and that they're more likely to make successful cold callers as a result.
It can also be helpful to allow yourself a small reward when you've achieved your call target, whether this is a cup of coffee, a bit of chocolate or a walk with the dog.
Take a deep breath, smile and start dialling.
Keeping the Door Open
If you seem to be getting nowhere, keep in mind that it's normal to have to make around fifty calls to get a useful lead, so there's no point giving up if you've made four disappointing calls.
Always ask if it's possible for you to provide additional updates on your company's products and services by e-mail every now and again and make a point of doing so. Make sure you take the person's e-mail address down correctly, and send a quick follow up e-mail thanking them for their time and hoping you can work together in the future.
Remember that even if a call isn't immediately successful, it has probably been a source of useful information, particularly if you have used a survey approach.
Each call you make is the starting point for a business relationship with the person you're speaking to, and it often takes time for this to result in a sale.
Take a deep breath, pick up that phone and start to build your business.
You might also like...
I am really fed up with people being rude to me...makes me not want to go to work each day! What can I do to make people realise I am just doing my job. Not just phoning to irritate them?
krissy
- 7-Oct-14 @ 1:59 PM