Following Up on Cold Calls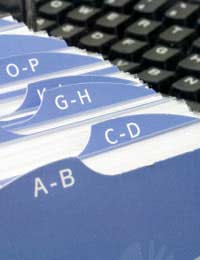 If you've chosen to make cold calls, you'll know that building your list and making your calls takes a considerable effort. Gathering information and finding the right people to talk to can take up a lot of time and resources. This makes it both surprising and disappointing that many people who're trying to build their business make the simple mistake of not following up on their cold calls. All too often, the information gets buried in a pile in their inbox and lost.
Get Organised
It makes good sense to keep the information you've gleaned in some form of database. This could be as simple as a box of index cards, a spreadsheet on your computer, or something more complex, like an off the shelf Customer Relationship Management (CRM) System, online CRM system or your own client database.
At the very minimum, you will want to store the name of your contact, their job title, phone number, e-mail, and company contact details, as well as what you've discussed, materials you've sent and any actions you have agreed. You will also want to note when you have next agreed to e-mail or call.
Take the Initiative
Don't make the mistake of assuming that interested potential customers will call you back. They are often as busy as you are, so take the time to follow up with a courtesy call. Try and keep the follow up call fairly short, unless you've started to build a rapport with the person you've called. You're not their best friend, you've not known them since they were in short trousers and they probably won't want to share their deepest thoughts with you. Some salespeople try to rush building a business and it can appear slimy and insincere, so keep your conversation professional.
It's often a good idea to call a few days after you've sent information to a prospective customer. Keep in mind when you make this call, that they are pretty busy, and probably haven't been twiddling their thumbs waiting for you to call. Start by introducing yourself and your company, and mention the information you sent over. It's generally not helpful to ask if they've had a chance to read it yet, as this can remind them of how busy they are and that they don't have the time to speak to you. If you're using this call to ask for a face to face meeting, it's often more fruitful to offer two different times rather than ask them to suggest a time.
Building your Prospects
As you proceed with cold calling, you will eventually build up a list of prospects you speak to on a regular basis. Try and keep this to a manageable size. There's no point neglecting your paying customers because you spend all your time speaking to those who haven't bought from you yet, but might in the future. The exact proportion of time you spend on building your business rather than running it will depend on the type of business you have and the resources at your disposal, but around a fifth of your time should go on building your business.
Sometimes, you won't feel like you're ever going to make a breakthrough with a particular person, and at some point you need to decide whether it's worth keeping in contact or not. It's best to review whether you ever see them as a client and how much that business is worth to you before deciding to give up.
You might also like...