Ten Top Tips for Cold Calling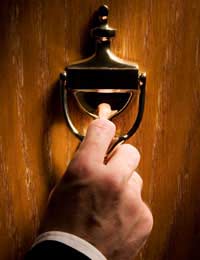 Cold calling can be a daunting prospect for most business people. Even some of the most self-assured, confident individuals would rather have their toenails pulled out than try and interest people they haven't met in their business. You can take the fear out of prospecting for new business if you follow our top ten tips.
1. Be Prepared
There is little point in just picking up the phone and dialling without preparation. You should have a firm idea of who you want to talk to, what you want to say and where you want the conversation to go. Keep in mind that although the ideal result may be to get an appointment to meet, send further information by e-mail or send a sample, a partial success, such as finding out more about the client, finding the right person to speak to, all take you further forward.
Some people will prefer to work with an outline script covering what they want to ask. If you choose to do so, then don't rehearse until you sound like a machine.
2. Don't be Afraid
You may never find cold-calling a pleasure but if you follow our tips, it will become easier. Life coaches will tell you that around 80% of the things we worry about turn out not to happen or to be better than expected if they do. At worst, you may call some people who don't want to speak to you or who don't want to buy your product. This is not the end of the world.
3. Be Polite and Smile
Try smiling before you start to dial. It will put you in a more positive mood and this will come across to the person you're speaking to. Be knowledgeable and enthusiastic and few people will be unhelpful. Keep your conversation light and professional and you'll get better results.
4. Be Succinct
Keep in mind that the person you're speaking to is probably busy and has other claims on their time. They are doing you a favour, so try and keep the call brief, but balance this with the opportunity to build rapport.
5. Get your Timing Right
Different companies may have different periods of the week where they are especially busy and less keen to help you with information. Traditionally sales people have often left their appointment setting and cold calls till Friday afternoons, but many people are rushing to complete their workload for the week and don't welcome speculative phone calls at this time. Similarly, many people will be planning their week on a Monday morning and may prefer to have a call on a mid-week afternoon. If someone says they are too busy to talk right now, you should always ask them to suggest a better time, and should always follow this up.
6. Gather Information
Use the call to find out as much relevant information as you can. Ask whether the company uses products or services like yours, ask about future plans and priority projects and areas for expenditure, find out who the people you need to speak to are. Ask what the main problems or challenges the company is currently facing can also highlight areas of opportunity.
7. Be Prepared for Rejection
The number of calls you make to get one positive response will vary with your industry, services offered and approach. It would not be unusual to make fifty calls to find one potential customer. This means that you might have to go through forty nine unsuccessful calls. Even a call that doesn't produce an immediate result can have some positive aspects.
8. Keep the Door Open
Always look for ways to build a relationship with the person you're speaking to. Few people will buy over the phone from someone they don't know, particularly if they are being asked to put expensive business to a stranger. Ask for the opportunity to keep them up to date with new products and services, try and get their e-mail address or whatever would be appropriate for your business. Make a list of all the prospects you've phoned that have agreed to a follow up and make a point of contacting them a suitable time later.
9. Reward Yourself
It's important to keep your spirits up during a cold calling session. Some people find that promising themselves a small treat, be it a fifteen minute break, a cup of coffee or a bar of chocolate keeps them going.
10. Follow Up
If someone supplies you with the opportunity to get in touch again, or to send material by post or e-mail, then make sure you do so in a timely fashion. There is little point going to the effort of making lists, and phone calls if you let resulting opportunities lapse.
You might also like...