Partnering to Get New Business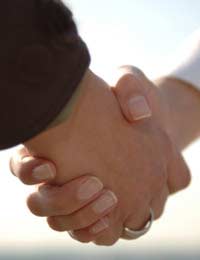 Teaming up with a partner on an ad-hoc or informal basis can be a useful way of building additional business by allowing you access to an additional pool of customers, to undertake larger pieces of work and to offer your own clients and enhanced portfolio of products and services.
What Kind of Partner?
Before making an approach to a potential partner, it's important to consider the services that would make a useful addition to those you already offer, but cannot provide yourself. Think of it as adding a new division to your business empire without incurring any costs or having to pay for any staff.
For example, a software developer might want to partner with someone who can write user manuals or who designs and delivers training programmes. A cleaning company may wish to partner with a gardener to offer a Spring Spruce Up service for inside and outside the home. Someone who owns a wedding dress shop might want to partner with a florist, a photographer, a wedding car provider, a wedding planner, or a jeweller who makes custom tiaras. This would allow them to provide a one-stop shop and a range of services that would offer added value to the customer. Everyone gains from additional business and the customer benefits from a simplified service and reliable suppliers.
It may also be of personal benefit as you will have someone who understands your business and the commercial environment you operate in, who may be a source of support and ideas. Sometimes it's helpful to have an ally to bounce your ideas off or who can give your morale a boost if things aren't going so well.
Finding the Right Partner
It's important to find the right partner for your business. This must be an individual or company who you know well and whose work is of a standard that you'd be happy to present to your customers. You should also look for a partner you can work well with personally. Never put your own reputation at risk by working with someone you consider to fall short of these standards. If their work isn't good enough, it may place you in an awkward position with a client, and could damage your future revenue stream.
It is likely that you may already know of a suitable partner, but if not, it may be worth checking if your local Chamber of Commerce, local Enterprise Agency or existing business contacts have any networking and partnering events scheduled, or might provide you with an introduction to a suitable business partner.
Set it up Formally
No matter how informal your business approach, you should draw up a partnership agreement in writing. This can be very simple and just lays out who is responsible for which aspects of the work, how you will work together, who takes the lead on a given project, how payment will be worked out and how you will resolve any disputes. This will also provide some reassurance to your potential clients.
Working with a partner will allow you to access contracts in the public sector as well as take on larger private sector jobs. Public sector contracts, even those below the EC threshold value, often require a company to supply three years accounts and a raft of policies on everything from safety to diversity. Partnering can be a route for smaller companies or new companies to access this market.
You might also like...