Coping With Rejection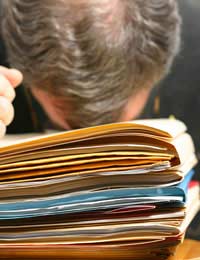 There will be days when you wonder why you ever chose to set up your business, let alone look for new customers. Building a business can be a lonely affair, the struggle to balance the books, keep bringing in revenue and spending long hours for what feels like little reward.
Some days, indeed some weeks, it will seem that every door you try to open just slams in your face. Rejection can be difficult to cope with, but it can also help you to become stronger and move towards your longer term goals. You can go back to bed, pull the duvet over your head and decide to come out again once the economy has recovered or you can shrug it off and keep on going, and build your business one step at a time.
Always Try to Find Out Why You're not Getting Business
It may be that you were up against a supplier with more experience, a business history with the company, a more compelling offer or just a better price. It's not uncommon for up to seventy people to be bidding for the same small consultancy job, and no matter how good your offer, sometimes you'll lose out simply because of geography.
It's always a good idea to ask why you didn't succeed this time so you can do better the next time. If you are consistently failing to win business, it may be a matter of presentation or a failure to meet the customer's needs. If you know where the problem lies, you can take action to improve.
Don't Take it Personally
It is important to realise that it is not you personally who is being rejected, but just that your product or service wasn't the best match for the customer's needs this time. Try not to be too introspective and avoid wallowing in self-pity.
Recognise that Each No Takes you One Step Closer to a Yes
There are books which advise men to ask every girl they meet out on a date. It's a strategy that works, because it's based on a numbers game. A given percentage of women will say yes. It might not be romantic, and you'd probably want to target your potential customers more carefully, but it's a strategy that works in business too. Try to hold the positive thought that each time you receive a no, it's taking you one step closer to a new customer.
Think Back to Why you Decided to Set Up your Business
Go through the things you disliked about working for other people and write a list. Remind yourself that you're now in charge of your own future and wellbeing, and that having your own business makes you free to succeed. Think about what you love about having your own business and rekindle your enthusiasm. Look for fresh opportunities and try some of the business seeking methods on the seeking business website.
Make an Action Plan
Setting aside some time to concentrate on finding more new customers and sticking to it is the one thing that will help you build your business.
Rejection is best viewed as a temporary setback and nothing more. Give yourself a wee treat, take a deep breath and get going again.
SEEKING BUSINESS IS FOR SALE.
This website is for sale [more info].
You might also like...