Low Cost Ways of Finding New Business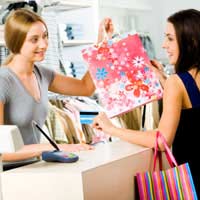 Finding new business doesn't have to involve expensive TV advertising campaigns or hiring top flight design companies. There are a number of low cost ways of finding new business and building on the business you already have.
Talk it Over
The simplest way of building your business is to ask customers if there is anything else you can do for them. If you run a retail store, like a baker or butcher's for example, training your staff to ask questions like "and what else can we tempt you with today?" after the customer has made their initial selection will bring additional sales. Saying "that'll be £2" will prevent a significant proportion of customers asking for anything else even if they want it.
If you offer services, make a point of asking your clients about their biggest business problems. There is often a business opportunity for you if you can help solve these. It will also contribute to your knowledge of their business and current concerns in the industry.
Talking can also help you find new business. Cold calling has been proven to work for many companies, and keeping in touch will seldom go amiss. Wherever you go, make a point of telling people what you do, and be enthusiastic about your business.
Get Referred
Trades people such as plumbers decorators and electricians have known about the power of referrals for a very long time. The names and details of reliable and skilled workers are passed on by satisfied customers time and again. The power of referrals is available to other forms of business too. See 'Getting Referred' below to take advantage of this.
Network
Networking will undoubted help you build your business if you approach it in the right manner. Consider joining a networking club, explore online networking and ask your local chamber of commerce or enterprise company about suitable events and groups in your area.
Gear up your Publicity Machine
PR is relatively cheap compared with advertising and articles in magazines and newspapers can often be perceived as more authoritative and impartial than advertising. Make a point of getting to know your local and trade media outlets and start contributing on a regular basis. Building a media profile can help you build your business.
Exploit your Expertise
If your business depends on your expertise, then you can bring in new clients by leveraging your expertise by speaking in public at trade and business events such as conferences and seminars.
Spend like Scrooge
Keeping control of your costs and expenses in business may not be fun, but it can make you a lot better off at the end of the year. Make a point of getting three or four quotes for anything you are buying, from furniture to printing costs. Go back to your favoured supplier and explain that you'd like to give them the business, but have a more competitive quote from another company and ask if there's anything they can do. Check prices online and take advantage of special offers and cash back sites.
SEEKING BUSINESS IS FOR SALE.
This website is for sale [more info].
You might also like...