Investing Time and Resources to Get New Business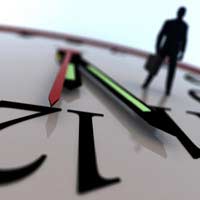 As your business begins to grow, you will find that you spend most of your time actually doing the work that you have brought in. Many business people admit that they do not have as much time to spend on marketing and business development as they would like and that this has impeded the growth of their businesses. It is especially important to invest time and resources in acquiring new customers during times of economic difficulty and if you undertake smaller pieces of work.
Don't Wait for the Mountain to Come to Mohammed
You cannot build a successful business based on the assumption that customers will actively seek you out. You must find them and build relationships to enable sales and a steady flow of new work.
Set Time Aside
Set aside an amount of time each week or month to devote to business development. Do not shift this except in the case of genuine emergencies, otherwise it will just slip further and further down your to do list until it hovers at the same point as 'catch up with the filing'. Time spent now means you can build a pipeline of business for the future.
Manage your Capacity
Whether you manufacture a product or have a service company that is based on billing for time, your resources are finite. Your goal is to sell as much product as you can make, or to book all your available time against billable projects or to customers. Different businesses will have different lead times, so it is important to plan ahead. Understand how long it takes a potential customer to become a client. Keeping a diary or schedule of incoming work will allow you to factor in the time you require to spend on building the business. Ideally, you want to be operating at a high level of capacity, with few peaks and troughs in your income flow.
Break it Down
Many people find it easier to do a little business development each day rather than leave it all till the end of the week or the end of the month. Making ten phone calls, sending twenty introduction letters each day or attending one networking event each week does not take long and is easier to manage that spending an entire week at a time seeking new work.
Mix it Up
Don't always stick to the same methods of trying to find new customers. Using a variety of techniques will prevent you becoming bored and unenthusiastic about building your business. Some methods will work well with one type of customer and some with another. Knowing your customers well means you can optimise your strategy and the methods you use to acquire customers.
Optimise your Effectiveness
You will only have a limited amount of time available to spend on building your business and looking for new customers, so it is important that you make the most efficient use of this. It may take several days to make a hundred cold calls, but you may be able to meet the same amount of prospects in two to three hours if you attend a networking event or speak at an event in your industry.
Whichever methods of business building you employ, keep doing so on a regular basis.
You might also like...