Setting Goals for Building Business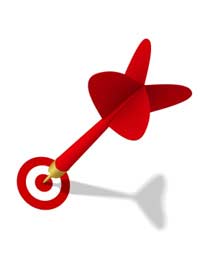 When it comes to getting started in building your business, there's a chance you might get carried away and set yourself some impossible targets. There's little point in setting yourself up to fail, and few of us can cope well with the spiral of demotivation that follows such an episode.
In order to build new business in a manner that can be sustained and doesn't take you completely away from the work that brings in your revenues, you need to set realistic and achievable goals for new customer development.
There's little point in saying that you'll call fifty companies this week to see if there are any opportunities to do business with them, if all that happens is that you get to Friday afternoon and find that other priorities have filled your time. All that happens is that you'll end your week on a note of disappointment and without any new prospective clients. The secret to gaining new business is to set manageable goals, and break these down into bite sized chunks. Rather than set a goal of fifty calls in a week, break this down to five calls each morning and five each afternoon.
Set SMART Goals
Goals should be SMART. That stands for Specific, Measurable, Achievable, Realistic and Timely. This makes it much more likely that you will achieve your goal.
"I will phone round a few people when I get the chance and find some new customers" isn't a SMART goal."I will design and deliver a mail shot to a hundred target customers by the 17th of next month" is much more definite. This is a SMART Goal.
Making your goals SPECIFIC means that they will be detailed and you will have defined the actions you need to take.
Setting MEASURABLE goals means that you know when it has been achieved, or how much more effort you will require to achieve it.
ACHIEVABLE goals are those which are doable with the time and resources you have available. It's not wrong to set yourself ambitious targets, but it can be more satisfying, and easier to sustain manageable amounts of activity.
REALISTIC goals mean that the goals you set should be related to the strengths and capabilities you offer existing clients. It helps to have a track record or experience to back your goals.
Goals should be TIMELY, so that you set yourself a deadline for achievement. An open ended goal is one that will find its way to the bottom of the heap and never see the light of day. Setting a deadline will make the task more urgent and more likely to be undertaken.
SMART Goals can Keep you on Track
Remember that it can take months to establish a relationship with a new customer and it may be months before that new business is making an impact on your turnover, so it is important not to give up too soon. Not every call you make or letter you mail will bring you a new client. You may need to make fifty calls or send a hundred letters to get a single response. It's important to use your SMART goals to break down the work into small pieces, and to make sure you're not becoming demotivated by the experience of trying to find new clients.
By using SMART goals to build your business, you can start to build a pipeline of opportunities that will bring you additional business over a number of months or years. Setting SMART goals can help you build new business successfully.
You might also like...