Why Seek New Business?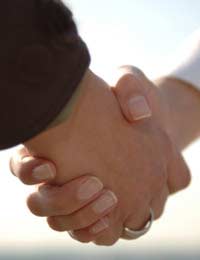 Few businesses have all the customers or clients they want or need, and fewer yet are operating at full capacity. Taking on additional business allows you to increase your profitability and turnover levels. It also spreads the risk that can result from being overly reliant on too few customers.
In uncertain economic times it makes sense to broaden your customer base and take on new clients, provided that their business is profitable. This will limit your vulnerability in the event that some of your clients are no longer in a position to provide you with work.
Looking for New Business
It is useful to start looking for new customers well before you need them as a source of income. Remember that it can take months to find a new customer, win their trust and then win their business, so forward planning makes sense.
So When Should you Look for New Customers?
A useful rule of thumb is, to work out how long it took you on average to get your first payment from your existing clients from first making contact and to add an additional month or two on top of this. This will give you an idea of your lead in time. If your lead in time is five months, and you're starting to look for new business in January, then your plans must take into account that it will be May before your activities begin to show a positive impact on your bottom line.
Many companies fail to take this into account and give up after a few days. It's also possible to underestimate the amount of effort required. Acquiring new business is a slow and steady business, with few magical short cuts. It's all too easy to make a few phone calls that don't produce the desired results and give up unless you understand your lead in time. This can also help you build a robust pipeline of potential opportunities for future development.
Why do you Need to Look for New Business?
Many people also find it helpful to understand why they are looking for additional business. Research shows that there are four main reasons that companies seek additional business:
Your business is not reaching the level of turnover or profitability that you desire, and this will remain flat or decrease unless you find new customers
Your company has spare capacity that could be filled by new business, allowing you to make more efficient use of your resources and be more competitive
Your company is doing all the business it can with the existing resources and needs new clients to fuel growth and allow you to expand by taking on new staff, products or services
Your company sees a new area of business that is ripe for development, be this a new product or service that fits with your existing portfolio or an expansion into a related market or geographical area.
Your reasons for seeking new business will help define the kind of new business you're seeking and the most effective methods of finding it.
When seeking new business it is important to ensure that you can continue to keep your current customers happy, and that there is no reduction in the level of service they receive. This is particularly true for businesses that are based on selling time-based services such as consultancy. It is considered easier to keep existing clients than to find replacements and they can also act as a useful source of referrals, so take steps to keep them happy.
You might also like...