Using Surveys to Generate Leads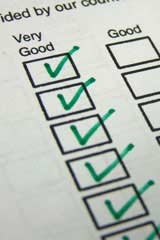 We've all experienced bad telephone market research surveys from kitchen design companies, or double glazing companies at inconvenient times, but even this irritating form of survey must show a decent rate of return, otherwise they wouldn't be used quite as often as they are.
Despite this, using the phone or the Internet for gathering information about prospective clients can be a good way of generating new leads. Even if you only gain one or two new clients from fifty calls, you will still have gathered useful information about your target market. This should help you narrow down the field of prospective customers.
Plan, then Print
It's essential to plan your survey in advance so you make the most of the opportunity to introduce yourself to prospective customers. If you design your survey and print it out, it is much easier to record answers without having to ask people to repeat themselves.
What to Ask
The exact wording of your questions will depend on the products or services you offer, but broadly you should be trying to discover five main things:
1. Do they use the types of products or services you offer?
2. How do they buy these products and services just now?
3. Is there any way their current service could be improved?
4. Is there any opportunity for you to establish a relationship with them?
5. What are their priority areas for spending money/their most pressing problems/areas where they are looking to improve on their current ways of working?
Short and Sweet
Keep your survey relatively short. Ideally each should take no more than five minutes conversation to complete. Treat the survey as a useful foot in the door exercise. You get to know about what's going on in their company and they become aware of you and your products and services. During the conversation, you'll also want to gather or confirm contact details and should ensure that any information you plan to store – such as details for a mailing list – is held in accordance with the Data Protection Act.
Be Patient
You should expect to make several calls before you gather the information you need. The first call may just be to the receptionist or switch board to ask who the most appropriate person to speak to would be. Ideally you should gather the name and job title at this stage. If the receptionist puts you through, then you should explain who you are, where you're from and ask if they could help you by sparing a few minutes to answer three or four questions. Explain that this is a quick information gathering or market research exercise, not a sales call.
If someone cannot spare a few minutes when you make your call, ask for a time when you may call back as you would really value their opinion. Around a third of people may not be available when you call, so make a point of calling back when you have the chance.
Remember to follow up with an e-mail thanking each person for participating and asking if you can keep in touch,
Surveys work well over the phone, by e-mail or in person at events like trade shows.Telephone surveys often give you the opportunity to ask additional questions or gather more information than e-mail surveys. Respondents often give short answers to online surveys.
You might also like...