Speaking at Industry Events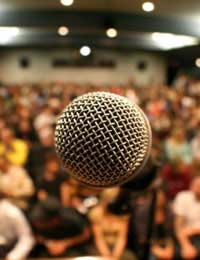 Speaking at industry and business events can be a useful way of building your personal profile and a great way to build your business, especially if you work in a service based sector or provide consultancy. Many business people would rather pull their own toenails out than speak in public, which means that good speakers are always in demand and this can operate to your advantage.
Finding events to speak at
Most industries are supported by a number of conferences, seminars, summits and other business forums. A lot of organisation goes into each event, from small scale local affairs to international conferences. Complex multi-speaker events are generally planned more than a year in advance, and attract an eminent line up of speakers. Smaller events will be planned in a shorter timescale, but by the time the event is publicised, the speakers will all be confirmed. It's essential to make your approaches at the right time, during the planning phase. Many magazines also organise industry events, so make the most of your press contacts. Check your industry's web sites and trade associations for upcoming events, and make a note of possible options. Don't forget to get in touch with your local enterprise company and other business organisations, professional bodies, groups and clubs.
Build your Contacts and your Media Profile
Conference organisers need to ensure their event is a success. This means they look to attract big name speakers to their event, so they can sell more seats. It makes sense for you to build a strong media profile and a track record of delivering entertaining and informative presentations at other industry events. It will also be easier for you to build your confidence by speaking at small local events at first.
Coping with Nerves
It's natural to be a little nervous before addressing an audience, especially if you're doing it for the first time. Deep breathing and visualisation techniques can help you cope with nerves, but being well prepared and making sure you have rehearsed your presentation are the best techniques. If you are very nervous, get some training, work with a coach or visit a hypnotist – these have all worked for nervous presenters.
Delivering a great presentation
You might have a lot of interesting information, but unless you can organise it well and present it in a clear and compelling manner, then you will lose your audience's attention very quickly. It's worth investing in some custom made slide designs and keeping your bullet points brief. These should be used to summarise your presentation. It's all too common for people to put their entire presentation on slides then subject their audience to a word by word monotone rendition of the contents. Keep your audience entertained and informed. They may have paid a considerable sum and travelled a long way to hear your opinions, so make their trip worthwhile.
Network
Make the most of the networking opportunities that accompany speaking at a conference. You've already been introduced to your audience, so work the room afterwards and attend any network and social events that surround the event. Just don't forget to take your business cards!
You might also like...