Using Magazines and Media to Build Your Profile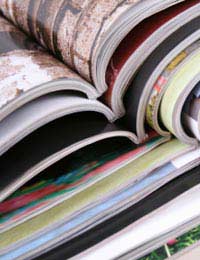 Some business people seem to spend more time in the pages of magazines and popping up on the radio and TV than they do running their business. While you might not want to spend all your time as the media's favourite talking head, you can exploit the media's ever-growing need for content and use this to build your reputation as an expert, gaining valuable publicity for your business and, sometimes even getting paid for your contribution as a bonus. This goes well beyond simply sending the odd generic press release.
Do your Research
Start by making a list of all the magazines, websites and media outlets that operate in your locality or industry. This could include TV stations, radio stations, consumer magazines, local, regional and national newspapers, trade magazines, industry websites, your local business organisation's newsletter, and your supplier's corporate magazines. Search the web for media directories.
Refine your Message
Keep in mind that there is little point building your media profile unless this helps enhance your expertise and builds awareness of your company. There may be a large number of potential media outlets, so you will need to screen these in order to select the most attractive options as a starting point for making your approaches. Take some time to think about the audience you want to reach and the messages you want to put across.
Play to your Strengths
Certain media may suit you more than others, so this should help you narrow down your options. While TV appearances might provide exposure to a wide audience, you won't benefit if you are not happy in front of the cameras. Radio works best for fluent communicators with expressive voices, and printed media is best for those who write well.
Be Proactive
There is little point waiting for magazines and other media to approach you. Use the internet and the phone to get the contact details of the editors of your media targets and get in touch with a few ideas. It's generally a good idea to start small and work up to bigger media outlets to build your confidence.
Think Laterally
Try to tie your contributions into current themes or areas of concern. If you have a new business, offer a feature on starting up a business in the current economic climate. If you're doing well and growing, when companies are closing, then share the story of your success. If a new survey is released, then give your viewpoint on the results. Offer features on working from home, moving into your first offices or juggling a business with being a mother – leverage your media assets.
Cultivate your Contacts
Start to build relationships with your media contacts. If you find a piece of news that might interest them, forward it and offer to write on the topic or contribute to an article. If you have a new product, send a sample. Taking a journalist or editor out to lunch or to drinks rarely goes amiss and is a great way of building a rapport.
Be a Case Study
Magazines and journalists always need case studies to fill their pages. There are even specialist websites which connect people with stories to offer with appropriate media outlets.
Blog your Business
Don't just think about traditional media outlets like magazines and broadcast media. Many industry websites need well-informed bloggers to provide their readers with a daily dose of information and opinion. Explore the options on your media list for relevant opportunities.
Using the media to help build your business is not a one off exercise. Just as it takes a while to build a relationship with your customers, it will also take a while to build a satisfactory level of mutual benefit with your media contacts. The best way to do this is to keep a constant stream of information on the go.
You might also like...