Questionnaire: Do You Know Where to Find New Business?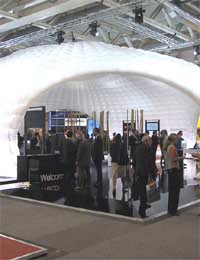 Finding new clients or customers is perhaps the most important aspect of building a successful business. Although you must ensure you keep your existing clients or customers happy too, your business will not grow unless you find new people that will pay for your products or services.
So how much do you know about where to find new business? Unless you have a generous benefactor that bequeaths you work, you will have to look for new business yourself. There are a great many places to find potential clients or customers – from the more obvious networking events to the less obvious online sources. Ask yourself the following questions and see what the answers reveal about how you can improve.
What Do You Know About Trade Shows?
I regularly attend trade shows that are related to my industry. I don't always exhibit but I make sure I read up about who is going to be there and take plenty of business cards.
I often get invited to trade shows by my clients but I never go because it just seems like a waste of money. I prefer to follow up afterwards and get talking that way.
I can't see the point of trade shows. I never go and don't intend to.
What Do You Know About Networking Events?
I am a member of a breakfast networking chapter, one night a week I go to the local Chamber of Commerce and I always follow up every introduction with a face to face meeting.
If there is a specific networking event that I'm interested in or is related to my industry, then I go and put my best foot forward, but I do find them a bit cheesy!
I turn up to the office at 9am and I leave at 5pm. I am not spending any of my own time on business so I never go to networking events – they're always in the morning or the evening.
What Do You Know About Online Networking?
I've set up a Twitter account for my business and I try to post relevant industry news a couple of ties a day. I've really built up a good profile. I also have a blog.
I'm trying to get to grips with online networking. I'd just made sense of Friends Reunited when everyone moved onto Facebook!
I'm not a fan of the internet so I prefer to write to my clients every six months.
What Do Your Answers Mean?
If you answered mainly 1), well done! This is a very strong way to find new business and utilise the online and face to face opportunities available. Perhaps you could try toning down your approach a little though as you may find that some potential clients find you a bit too overpowering. Take your cues from the other person as to whether or not your style is coming on a bit strong.
If you answered mainly 2), you're doing really well! This is a great attitude, although you do need to be careful that you don't get complacent (read lazy!) and miss out on opportunities.
If you answered mainly 3), you really need to get with the programme, Daddy-Oh! Even if you are in the most traditional of businesses, people expect more modern methods of communication. You are sure to be missing out on business. Try dipping your toe in the water by attending the next trade show as a visitor and get chatting to some people. You're probably better at finding new business than you think!
You might also like...