Questionnaire: Is Your Advertising Budget Spent Wisely?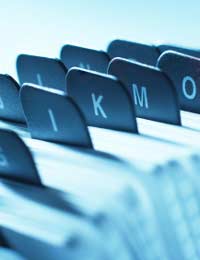 In these credit crunch times we have to be extra-effective with our money and advertising budgets are no exception. Vast number of magazines, trade exhibitions and TV channels are feeling the pinch as more and more customers are slashing their advertising budgets in favour of cheaper viral marketing options.
So is your advertising budget being spent wisely? How much do you know about the latest forms of advertising that not only cost less, but also help your brand image in a fresh way?
Read the following scenarios and pick which answer best matches your approach, and then see how you can improve and make your advertising budget go further.
Direct Marketing
Direct marketing is the more polite term for 'junk mail' usually, although it can encompass some more targeted (and appreciated) mailshots, usually sent through the post. This, obviously, is rather costly, as you not only need to design and copywrite the piece, but also pay for printing and postage. What's your view on direct marketing?
1.) I send out about one mailshot every two weeks. I've been using the same designer and printer for years so I'm sure they give me a good deal.
2.) I've been reassigning my direct marketing activities and plan to only send out one this year, although I'm sure it'll be successful as I'm working with a new designer who's got some excellent ideas. It's also only going to go to certain customers to ensure I don't waste money unnecessarily.
3.) I haven't done any direct marketing since the start of the decade! I'm all about viral marketing, subliminal messaging and iPhone applications now.
Trade Shows
Attendee number at trade shows have been seeing a steady decrease since the start of the recession, which is understandable as they're expensive to attend and not always very fruitful. What's your view?
1.) I go to every trade show that's connected to my business. I had a stand made up a number of years ago and it's still going strong.
2.) There is one major trade show that it really pays to be seen at, but I've decided not to have a stand and just go and schmooze with my clients at the local restaurants. I did this last year and not only did it save me a fortune but I picked up loads of new business.
3.) Trade shows are no longer a sensible way to spend your advertising budget – it's all about video conferencing online rather than spending time, money and airmiles on attending trade shows.
Online Marketing
We all have to accept that online marketing is the way forward. Of course, people still love to buy magazines and receive post, but in terms of advertising spend, you get a lot more bang for your buck online. So how much do you know about this new media phenomenon?
1.) My son keeps telling me that I should get a computer and a website for my business but I've been doing perfectly well without it.
2.) I've launched a monthly online mailshot for all my customers which seem to be going pretty well, although I need to find a way to collate the feedback.
3.) I'm on Facebook and Twitter and have my own blog where I review our latest products and invite customers and potential customers to give me their views.
The Results
If you answered mainly 1), you really are throwing away good money after bad. Although there is nothing wrong with being a bit 'old school' in business, marketing and advertising moves quickly. Dip your toe in the water by going on an internet course at your local library and contact a few new agencies to get some fresh ideas.
If you answered mainly 2), you're certainly on the right track. You've embraced new ideas and are not getting left behind. To make the most of your advertising budget, make sure you have systems in place to track the results of your efforts and use the feedback to your advantage.
If you answered mainly 3), you really are at the forefront of modern technology! Well Done You! Just be careful that you don't let the quality and continuity of your advertising message get lost in your frantic use of all the latest gadgets and gizmos.
You might also like...