Celebrity Endorsement Helped My Business: A Case Study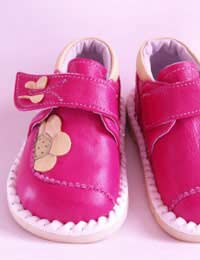 While the general obsession with celebrity is showing some signs of slowing down now that the global economic downturn has highlighted how out of sync celebrities can be with the every day lives of the majority of people, there is no doubt that a celebrity can still raise the profile of your business.
For 27 year old entrepreneur Rebecca Cohen a celebrity endorsement of her soft leather baby shoes gave her more column inches in the glossy magazines than she could have ever afforded to pay for out of her advertising budget.
Finding the Right Celebrity
Rebecca told us, "I had launched my online business selling luxury soft leather baby shoes after having found a company that made them on a trip to Italy. It was right at the beginning of the whole 'yummy mummy' trend and I found a number of clients who wanted to stock them. I knew that I wanted some 'higher end' retailers and boutiques to sell my shoes, so I decided to send out a few free pairs to some selected celebrity mums."
This excellent marketing idea certainly proved successful. Within a month of Rebecca sending free leather baby shoes to some celebrity mums, a paparazzi shot of a very famous film star with her baby daughter wearing the shoes was printed in a Sunday magazine supplement.
Rebecca continued, "Ever since that picture was printed, my phone has been ringing red hot. Although it took me a while to find the right information about where to send the shoes and which celebrities to target, the effort I put in really paid off. Not only did I find that it was busier on the phone and with online orders, I was also able to get my shoes into the higher end retailers more easily. Once my brand name was known, I made sure to capitalise on it!"
Making the Most of the Opportunity
To achieve this, Rebecca contacted a number of glossy magazines to ask for a meeting about her products, bringing them free samples and asking for her shoes to be featured in their magazines. This is common practice and, though it doesn't always work, if your product is good, the relevant editor likes the product (and likes you, ideally!) and the product suits an upcoming feature idea, you may just get lucky.
Rebecca concluded, "I made sure that I contacted the celebrity and thanked them for letting their baby wear my shoes. I also sent more pairs in different colours and some of my new designs because I thought that they'd either keep them and wear them or give them to other fancy friends! It worked because they mentioned how much their daughter loved the shoes when they were interviewed in for a parenting magazine, which further cemented my profile."
It is clear that it may not always work as well as Rebecca found when you try to encourage celebrities to wear or use your products, but they like a freebie as much as the rest of us, so as long as you carefully target a celebrity who suits your product, go for it!
You might also like...