Using Networking Clubs to Build Your Business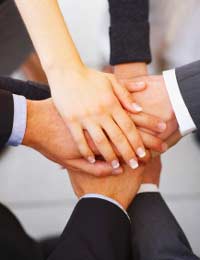 For many people who are starting to build their businesses, and who are actively seeking to build their client base, networking clubs can be an ideal resource.
Networking clubs come in many different varieties, but are more often aimed at people who work in the business to business rather than consumer sector.
Types of Networking Group
Industry based: such as the Chartered Institute of Public Relations or the British Computer Society. There will almost certainly be an organisation for your business sector.
Referral organisations: These are special clubs with a limited membership. Each chapter will only allow one company from each business sector, so you will never run into your competitors. Many require weekly attendance at meetings and that you pass on a target number of referrals to the other members, who will provide you with referrals in turn. This may require too much commitment for some business people, although they can be very effective in building new business.
Chambers of Commerce: Gather together businesses on a geographic basis. There will be one in your local town on region.
Entrepreneur's Clubs: these are often privately run clubs for entrepreneurs to meet likeminded individuals and pass on business leads and information.
Business Development Organisations: many organisations like Local Enterprise Companies, Regeneration Authorities etc. will offer networking events as a way of helping new companies build their contacts.
Woman and Ethnic Minorities: many towns will also have networking associations for different ethnic minorities and women.
Check it Out
As Groucho Marx once said, "I don't care to belong to any club that will have me as a member" and you should exercise similar caution before handing over a fee to join any form of networking club. Make sure you do some research and find out if the club will actually be useful in helping to build your business. Paying what might be several hundred pounds and attending meetings may be a waste of your time and resources unless the group meets your needs.
Size of Clubs
Bigger clubs may allow you more scope for developing business relationships than smaller organisations.
Who's a Member Already?
Try to find out which companies already belong to the organisation and the level of people who attend the meetings. If you need to meet top level business people in larger companies, you may be better joining the local chapter of the Institute of Directors rather than the Junior Chamber for example.
Diversity
While being an active member of your industry trade association can help build your business profile, there's little point in looking to build your business by joining a group that only includes other IT specialists, contract cleaners or PR people. Look for a group that attracts members from the business sectors that your customers come from or where you think you might be able to do business.
Level of Activity
Ask about the level of activity and referrals that take place. Joining an inactive club can also be a disappointment and joining one that has too high a level of expected participation can also be a mistake.
Costs and Time Commitment
Joining your local Chamber of Commerce, for example, attending six breakfast meetings and quarterly networking events might come in around £450 a year, so it's important that you find it worthwhile in business terms. Many clubs meet very early in the morning or in the evenings, so this will need to fit in with your work and home life requirements. Again it's essential to explore this before joining. Many reputable clubs will allow you to attend a meeting or two on a trial basis before joining.
Whichever type of networking club you join, remember that networking is a two way process. If you put leads, information and ideas to other members, then they will do so for you. You're trying to build ongoing business and professional relationships and exchange useful information. Treat networking as a one-way street and you're likely to find you're in a dead end.
You might also like...