Using Clients and Customers to Generate Referrals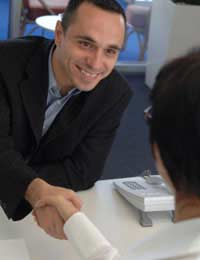 "You have been amazing. I have started recommending you to people already!"
Imagine finding a message in your e-mail like this. Imagine if you could expand your sales force without paying a penny. Imagine if your customers thought your products and services were so great that they started, quite spontaneously, to find new customers for you.
Many businesses are in the happy position of gaining referrals from their existing customers. Really good joiners, builders, plumbers and electricians for example are often booked up for months in advance simply through the power of referrals. If your customers have an outstanding experience, then they will be happy to pass your details on to others.
Starting to Ask for Referrals
It generally takes time to build up to a level where a customer is happy to pass on the details of business contacts that might need your services. This is because it generally takes time to build up a personal rapport and a track record of good work. Remember that when a customer passes on a prospect's details he is entrusting you with part of his own reputation. If you were to gain business and then perform poorly, then his reputation is damaged.
You can also use your contacts to ask for referrals for services you need for your own business. Most of us are quite happy to ask where someone gets their hair cut or bought their suit, so why not ask who designed their logo or does their accounts.
There is nothing wrong in asking an existing customer or client if they know of anyone else that might have a use for your services, especially when they've just told you they're happy with your work. Often the best way of doing this is to ask if you might be able to sit down and brainstorm about some possible contacts as you're keen to build your business through referrals. Asking for names directly may make your customers uncomfortable and may undermine your relationship.
Return the Favour
If someone does pass on your details and you get business as a result, it's both polite and worthwhile to recognise this with a thank you of some sort. Some businesses take this idea and build on it, offering formal incentives to existing clients.
Many businesses have found success with offering dual discount vouchers. Not only can an existing customer offer a free or discounted introduction to one of their friends or colleagues, but when that voucher is used, they also receive a discount.
Customer Reviews Build Business
Online retailers have found that letting customers provide product and service reviews on their websites can increase customer satisfaction by up to 21% according to the latest figures from ForeSee. Travel review sites also help people choose one hotel or vacation spot over another. Customers are no longer suffering in silence, and are pleased to share their experiences, good and bad with others.
If you want your customers to help build your business through referrals you must work on building a relationship based on mutual trust and on supplying an outstanding level of customer service.
You might also like...