Preparing for a Successful Trade Show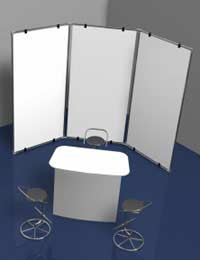 Trade shows and exhibitions are very expensive, so it's imperative that you take the time to make sure that you attend the most useful events and that you're thoroughly prepared to attract as many potential customers as possible and have contingency plans in pace should anything go wrong.
Choosing the Right Event
The key to choosing the right events is understanding which shows your customers and potential customers regard as unmissable. Obviously, if you are seeking to enter a new geographical market, it makes sense to choose events in that country region. There are specialist sites, such as www.tsnn.com which list tradeshows globally. Spend some time checking out which events your competitors attend, find out which ones your trade association or industry bodies think are worthwhile and don't be afraid to do some research amongst potential clients to get their advice. If you have chosen an overseas show, it is also worth checking with your local business support agencies, trade organisations and government websites to see if any financial support is available for attending the event.
Choosing the Right Spot for your Stand
Most people book their stand spaces well in advance. Sometimes there is a discount for doing so, but it also gives you the widest choice of sites to choose from. Examine the floor plans carefully and try to find a space that will maximise the flow of potential visitors to your stand. Most trade shows and exhibitions are laid out in a grid pattern, so a corner site allows you to access visitors from two sides. Take into account positions of entrances and exits, likely flows of traffic and if there are any exhibitors you want to be close to or far away from. Some trade shows, particularly European ones, may involve up to a dozen huge halls, so you may wish to be close to similar companies to benefit from clustering, rather than expect clients to trek across four extra halls to visit you.
Getting the Layout Right
The next key task is to design your stand layout to make it welcoming to potential and existing customers. People should not feel intimidated to approach you and open a conversation, yet many stands seem to be designed to operate as barriers. If you have the space, mocking up your stand's floorplan can show you where blockages, such as narrow entrances, may inhibit visitors. Simple things, like setting your reception desk at an angle rather than parallel to the front can make a big difference. Before you decide on your layout, try and attend a similar show or look at exhibition designers websites to get some ideas.
Plan for Something to go Wrong
No matter how well you've prepared, there's still a chance that something will go wrong. Pulling a stand together involves a lot of suppliers and contractors, which means there are lot of people involved that you have no direct control over. Couriers may fail to deliver your equipment on time.
It's a good idea to have an emergency fall back kit that you transport personally. This should contain the contact details of a number of local companies that can supply replacement services if anything goes wrong. It's worth including print shops, stationary and DIY stores, the exhibition organiser, electrical and other contractors, and anyone who has been commissioned to provide services to your stand. Consider taking at least one day's worth of marketing literature and a CD or memory stick with poster artwork with you. Your kit should also include a number of practical items such as screwdrivers, a multitool, scissors, pen and paper, Velcro, Blutack and Sellotape and anything you need to get you through the first day of the show if something does go wrong.
You might also like...