Following Up Trade Show or Exhibition Leads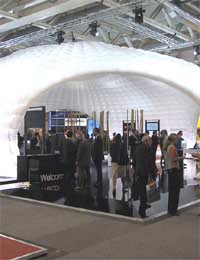 Sometimes the most obvious things seem to escape people's attention. You may have spent thousands of pounds on space, stand design, travel and accommodation and met lots of useful contacts at an event, but if you don't follow up those leads, you might as well have stayed in your office and shoved piles of bank notes into your shredder. Anecdotal evidence suggests that up to 60% of companies don't follow up leads from trade shows and other events adequately. Their loss can be your gain.
Have a Plan in Place Before you Go
The best way to follow up is to have a plan in place before you head off to the show. You should draw up a simple process which will mean you know which types of contacts will receive materials, e-mails, or appointments, and in what order and timescale. Someone in your organisation should be allocated responsibility for this activity and completing follow-ups. If this is you, then set aside a day or two in the week when you return to focus on following up.
Prioritise and Prepare
You may want to classify your contacts in terms of priority and to make you respond to the leads with most potential first. It may be appropriate to drop each potential new customer a short e-mail saying it was good to meet them at the show, you look forward to working with them in the future and that you will be actioning their requests over the next few days.
Requests for samples and information should be dealt with promptly even if you need to give up a few evenings to get it all done. If you have packages prepared in advance, this can save you a lot of time as you are likely to face a backlog of work when you return from the show.
It's Never Too Late
Always make a point of following up your leads even if a few weeks have gone past since the event took place. You may not get as much business as you would had you responded promptly, but it would be an expensive mistake not to follow up at all.
Follow Up your Follow Ups
There are also a surprising number of businesses that will go to the expense of sending out information and samples and then not going to the bother of finding out what their potential clients thought and what the next stage will be. Once you've made contact with your new leads, don't forget to keep communicating. Don't send information or materials without doing a follow up call or e-mail. Try to fix an appointment where possible.
Each Contact Counts
Everyone you spoke to and who passed on their details should be contacted and is worth keeping in touch with. Even if no immediate business results, they have shown an interest in your products and services and may be in a position to buy in the future. The most unpromising looking lead can turn out to be the one you've been waiting for. You should look to keep in touch every few months or so even if there's no immediate business available. Remember that business doesn't happen overnight and you will need some time to build a flow of communication and gain trust.
You might also like...