Business Opportunities: Trade Shows or Exhibitions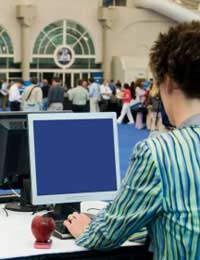 Once you've booked your space at a trade show or exhibition, many businesses make the mistake of sitting back and waiting for business to come to them. In order to maximise your chances of having a successful trade show, you need to work the event.
Let People Know you'll be There
There's little point in spending thousands on attending a trade show or exhibition unless you let existing and potential clients know that you'll be there and would love to see them. You may want to send out invitations and some shows will provide an allocation of free tickets for exhibitors. It's also worth making a follow up call by phone and arranging to have lunch, dinner or drinks with existing clients and contacts during the event.
Record Enquiries and Follow Every Single One Up
Remember that the entire point of spending money to attend a show is to build your business and attract new customers. Always make time to follow up every single expression of interest your received. Send samples or information promptly and start to build new relationships.
Take a Partner
Taking a second person along to help man your stand may seem like an unnecessary business expense, but it can often make a show more successful. A second person means you can deal with more than one interested party at a time and will lose fewer potential customers who don't have the time to wait. This is particularly important if you are running demonstrations or have a complex product or service that takes a while to explain.
If you are working alone, you will find it difficult to leave your stand to check out the rest of the exhibition, meaning you may miss out on meeting potential clients or reviewing what your competitors are up to. On a practical level, it also gives you the chance to keep the day to day aspects of your business going, grab some lunch and attend networking events with you. Choose someone who is outgoing and knows about your company and what you do.
Spread it Around
If you're travelling as part of an industry group or local delegation, always make a point of introducing visitors to your stand to other companies in your group who may be of interest to them. Soon, you'll find people from other stands passing on their prospects too. Think of it as having extra staff for free.
Visit Potential Customer's Stands
Go through the exhibition catalogue well before you arrive at the show and mark off all the stands you want to see. Plan in time to do so and work out the best route if it's a big show. Never leave this till the last afternoon as the halls are emptying as they will want to go home or back to their hotel as much as you do.
It may be worth phoning ahead to make appointments if there are people you particularly want to see. Remember, though that potential client's stands are likely to be manned by sales and marketing staff, but they will probably give you the names of the relevant people in their business if you take the right approach. Take the time to visit competitor stands and collect as much literature and information as you can.
Attend Peripheral Networking Events
Try to attend as many of the networking and social events that surround exhibitions and trade shows as possible, as you are likely to run into potential clients in this setting. Check with the exhibition organisers, local chambers of commerce, trade associations, trade press and organised groups such as country delegations. It's worth befriending local embassy staff who will often help facilitate introductions or who may be hosting events.
You might also like...