About Our Site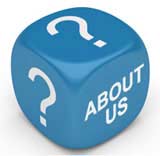 SeekingBusiness was formed to offer a unique reference point on comprehensive advice on how to get new business.
It doesn't matter how good your product or service is, you still need to work hard to sell it. Business won't come to you; instead, you must go out and seek new business prospects yourself. This is what SeekingBusiness is all about.
Our experts are about to make your life easier and your business more profitable. We have brought together in one place everything you need to know about going out and winning business.
Cold calling and direct marketing are as effective as ever. We will show you how to get the best out of these established methods, throwing in a few tricks along the way. We will show you how to generate leads, and how best to turn prospects into sales.
You'll be surprised how adopting the methods on the SeekingBusiness website could drive business to your door. There are people and businesses out there with a real need for the goods and services you provide, and our practical advice can help you to find them and make sales.
Although there's no substitute for hard work, we will help you to target your efforts efficiently to get the best response from the work you put in. Bookmark this site now so you can return to it before your next sales drive, and sign up to our newsletter to be the first to get updates when they are made. Your business will thank you for it!

Related Articles in the 'Site Information' Category...